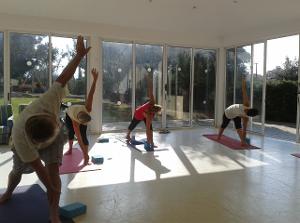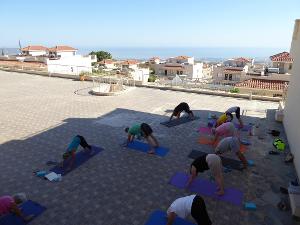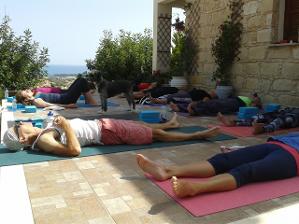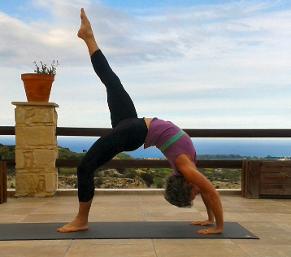 Class Schedule - Yoga in Polis with Helen
It's SUMMER -classes move OUTDOORS from Monday June 5th - see below
Please see my yoga class schedule for spring/summer 2017 in Polis below. If you are new to yoga or haven't been for some time, please contact me to let me know you are coming, so I can be sure there is enough space for you and that I have enough mats if you need one. Plus also in case I need to change a class time or venue at the last minute.
Classes cost €10 for a 90 minute session, discounted for regular students using your loyalty card. After 5 classes, bring your completed card with 5 boxes signed and get the next class FREE :)
If you are not sure about a group class or would like a personalised yoga session, please contact me about booking a private class. I also offer private yoga therapy sessions for those with injuries or other ailments - no previous experience of yoga required.
If you are a group here on holiday or perhaps here for a wedding in Cyprus, let me help you unwind with a private group class at your villa or hotel.
Group classes for SUMMER move OUTDOORS either to Akamas Resort in Droushia (Monday class for larger numbers) OR to my house.
NB: Monday class NOW at my house too.
From Monday August 21st, the Monday class as well as the Tuesday and Friday classes will be held on the shaded front verandah at my home. See picture opposite to see where you will practice.
Please e-mail me at helen@not-just-yoga.com for directions to my homeor call me on +357 99350898 if you have any questions.
Monday 08.30-10.00 Beginners/Level 1 Hatha Yoga - My Home
Tuesday 08.30-10.00 Intermediate/ Level 2/3 Vinyasa flow - My home
Friday 08.30-10.00 Mixed Level 1/2 Vinyasa flow** - My home
**Friday class suitable for beginners too
Directions to Akamas Resort - ONLY for Monday classes IF numbers grow too large for my home terrace.
Between June and October, classes are held OUTDOORS at Akamas Resort in Droushia. Take the E709 to Droushia taking a right turn to the village after passing the Karithea (not open) taverna on your left. The resort is signposted Latchi Panorama resort - turn left and press the intercom at the barrier to open the barrier. Drive to the left past reception (tip - toilet stop on your right before you go further uphill!) then round and up turning right again at top of hill to park either on the right or undercover on the left.
E-mail me for directions to my house for Monday, Tuesday and Friday classes.
Please check my Facebook page for additional information.