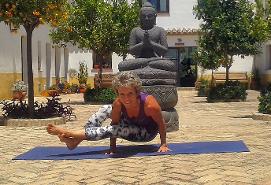 Helen Smeaton is a registered teacher with Yoga Alliance Professionals. This accreditation demonstrates excellent standards as set by Yoga Alliance Professionals.
Welcome to Not Just Yoga
I'm Helen, an experienced Yoga Alliance Registered Yoga Teacher with a passion for living and practicing yoga. I live and work near Polis in Cyprus and offer group classes and private sessions in the Polis area for all ages and sexes. I have over 8 years teaching experience with 1700 + hours of teaching so you can be sure you are in safe hands.
I have recently completed a therapeutic yoga training course and now offer gentle therapeutic yoga classes for students to help ease pain and discomfort in the body. From my own experience, these classes can be life changing bringing true joy back into both body and mind.
Yoga is not just about the physical practice; it's a complete lifestyle and it can change your life, rejuvenating both mind and body if you let it get under your skin.
Yoga teaches you how to breathe properly; it awakens and rejuvenates your spine bringing freedom back into your joints. A regular yoga practice is the perfect way to energise your body and nourish your soul.
Yoga calms your mind and eliminates dis-ease from within. It can be practiced by anyone, no matter how old or young as every yoga pose can be modified to suit.
Let me show you how yoga can rejuvenate YOUR mind and body, as it has done mine.
It's never too late to change your life. Especially in these crazy Covid times!
Find me on Yoga Alliance Professionals
Namaste
Helen