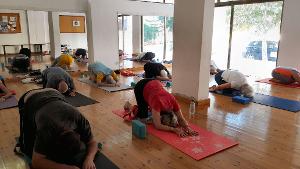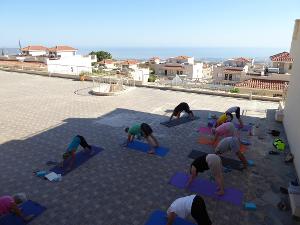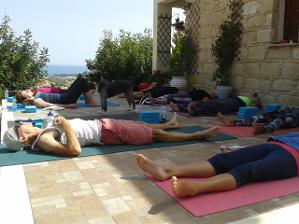 Class Schedule - Yoga in Polis with Helen
Subject to change due to ongoing Covid-19 restrictions
Advance BOOKING now required for all classes

All Group classes are held at my home between Prodromi and Droushia and MUST be BOOKED in advance to ensure appropriate space for health and safety due to Covid-19 restrictions. Maximum students per class = 6.
Classes cost €10 for a 90 minute session, discounted for regular students using your loyalty card. After 5 classes, bring your completed card with 5 boxes signed and get the next class FREE :)
If you are not sure about attending a group class or would like a personalised yoga session instead, please contact me about booking a private class. I also offer private yoga therapy sessions for those with injuries, aches and pains or mobility issues. You can do Chair Yoga for example - no previous experience of yoga required.
If you are a group here on holiday or perhaps here for a wedding in Cyprus, let me help you unwind with a private group class at your villa or hotel.
Please BOOK your class NO LATER than 48 hours in advance either via e-mail - helen@not-just-yoga.com, call me on +357 99350898 or contact me via What's App or FB Messenger if you have any questions.
Current Class Schedule
Subject to change due to ongoing Covid-19 restrictions:
Monday 08.30-9.45 Beginners/Level 1 Hatha Yoga
Friday 08.30-9.45 Mixed Level 1/2 Vinyasa flow
We all need to find peace and a calm focus in these crazy Covid times and yoga offers us just that. I look forward to sharing my yoga thoughts and practices developed during 2020 with you all.
Please check my Facebook page for additional information.