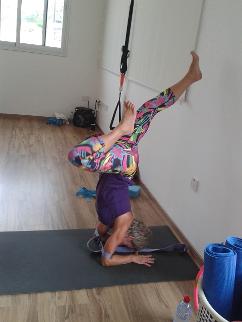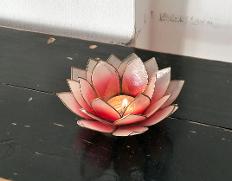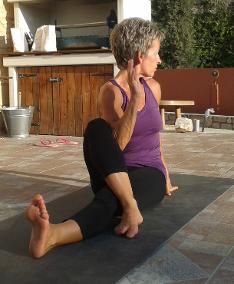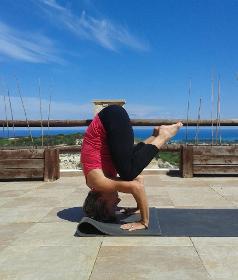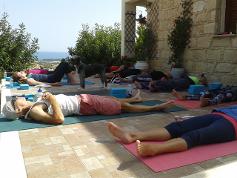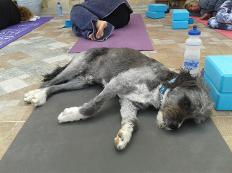 Testimonials
Helen is a dynamo! Everything she does, she does thoroughly with energy and enthusiasm! Helen is a committed yogi and conscientious about all aspects of teaching yoga. Her classes are well planned and consequentially sensibly sequenced to warm up, working towards a peak pose with the logical elements needed to achieve that pose.
Despite being qualified for only two years I can honestly say Helen is one of my favourite teachers and I enjoy her varied classes which are often taught outside with breathtaking views of Chrysochous Bay!
Suzanne Sieroslowski, Polis, Cyprus, June 2016
Weekly attendance at yoga class is essential to our well-being. Helen's love of and passion for yoga shines through her classes and her patience and encouragement make you feel able to challenge yourself more than you thought possible.
After a stressful and hectic period, you leave class feeling calm and restored. My husband John is able to touch his toes for the first time in years and I benefit greatly from the flexibility and stretching aspect of the practice.
I would highly recommend Helen no matter what age or experience as she takes into account every student's individual needs.
Susan Read, Droushia, Cyprus, June 2016
I only met you at the beginning of January & I have only had the pleasure of a few meetings & lessons - however I think you are excellent!
You have been kind enough to listen to my unforseen health issue with my spine (possibly part-blocked artery) and found a lesson plan to not only still work me out with Yoga - but from last nights class... Make me feel 100% better (ok... 95%!.....) - I have not slept well (probably with continuing lower pain and subliminal worrying) since I had my original diagnosis that something was wrong at end of December. So for the very first time last night in at least 4 weeks of trying... with your splendid new lesson plan I did!!
The difference of being able to sleep for more than 4 hours (5.5 if very lucky) is amazing so I am very very grateful. As you are aware the spine is damaged in two places & your lesson plan yesterday was so good & I felt a) I did not want to stop! b) we had exercised and stretched the back really well & I did not feel any pain or impingement on my disc problems.
So honestly Helen, thank you from the bottom of my heart. I can hardly wait for next time! A good teacher encompasses her craft with technical knowledge, empathy & an attitude which gives the student confidence. You possess all qualities and more in bucket loads! Thank you very very much.
Ann S. Klein, Droushia, Cyprus, January 2016

Learning and developing my yoga with Helen has been both challenging and fun. Ninety active yoga minutes at the beginning of each week is now much anticipated.
Helen combines the ability to be both encouraging and challenging at the same time, whilst always recognising ones personal limitations. I have learned a great deal. Yoga has enormously contributed to a necessary lifestyle change and will continue to be an important part of my retirement. Thank you Helen.
Geoff Lake. Kathikas, Cyprus, July 2016
I have been attending one of Helen's classes for nearly 2 years and as one of her older students I can say that her classes cover all ages and abilities. Yoga has kept me supple and free from any muscular problems in my later years and under Helen's tuition I can still do most of the poses (which she gently corrects if needed).
If anyone wishes to take up yoga, or continue I recommend that Helen is contacted and as a new student you will be welcomed into her classes.
Margaret Roberts, Polis, Cyprus, July 2016
I wanted to take the time to thank you again for the wonderful vacation yoga this summer. I learned many new things and definitely improved my yoga skills. The way you teach is very inspiring and motivated me to challange me and my body a bit more every lesson. I am looking forward to join your classes again once we are back in Cyprus.
Sabine Schex, Neubebirg, Germany, August 2017
Lovely class today really enjoyed it. Wish I could come to your classes every week.
Beverley Maund, UK, attended classes while on holiday, July 2019
I love your therapeutic yoga class and think you are fab
Mary Jones, Cyprus, May 2021